Howl2GO Schedule 8/1/2018
Are you ready to go?
Howl2GO Dueling Pianos is back on the road for another week of unbelievable performances in your favorite cities. Our trucks are loaded and the musicians are tuning up for some big-time weddings, corporate parties, and our public Howl Experience shows—and we cannot wait to see you there! Let's see what's in store for us between July 31st and August 3rd, 2018.
We're kicking off the week and rolling out of bed a little sooner than usual with two awesome shows in the beautiful Midwestern states of Illinois and Missouri. While we rock a private event over in Kansas City, performers Jordan, Emily and Jahari are setting up at Gibson's in Oakbrook, Illinois to celebrate 20 fantastic years in business for Continental Audi of Naperville.
Moving the week along, you can catch one of Howl2GO's highly-energetic and very public live shows, the Howl Experience, on back-to-back nights in Vero Beach, Florida at the Riverside Theatre. Howl2GO will be playing on both Friday, August 3rd and Saturday, August 4th and you can find more information below.
Capping off Saturday night is a beautiful wedding at the Casa Rio in San Antonio for Terry and Aaron. 
Also on Saturday, we will be doing a Midwest doubleheader: Jamie & Derek will be getting married at the Bridgeport Arts Center in Chicago, partying the night away with Howl2GO performers Emily, Tommy, Rachel and Amy. Further East, we'll be out in Carmel, Indiana raising funds for an amazing cause: The Indiana Coalition Against Domestic Violence – we are proud to be supporting such a worthy charity. Our Dueling Piano show is the ultimate way to put the FUN into fundraising, whatever your cause.
Howl2GO will be back next week with more unbelievable shows throughout the country!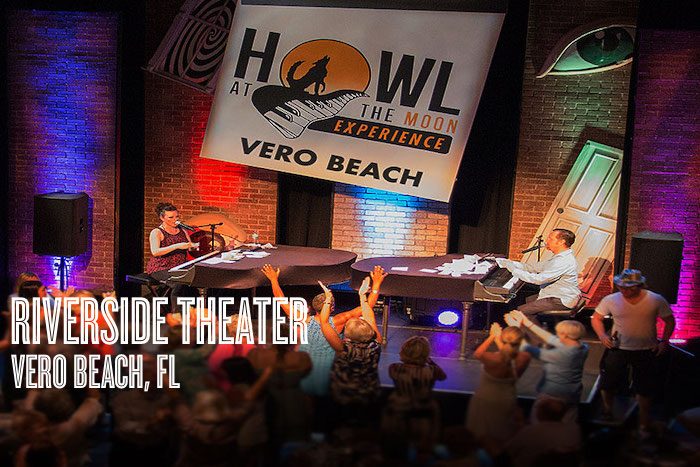 This week's Public Shows:
8/3 & 8/4) Vero Beach, FL @ Riverside Theater

Live Dueling Pianos Shows
Howl2GO comes ready to turn your party or event into an experience! Our legendary dueling pianos and live music shows make your guests howl louder than ever, playing exciting hit songs and tons of the crowd's requests to get everybody in on the fun. We start planning your night months in advance, working with you to make sure every detail of your performance goes exactly as planned. We even bring every piece of gear necessary and arrive early so setup goes off without a hitch. And with every one of our enormously talented musicians having been expertly trained to provide tons of energy every night, you can be sure that Howl2GO Dueling Pianos will rock your party or event all night.
Howl2GO can play at fundraisers, weddings, holiday parties, corporate events, private parties and more.
Tags:
Casa Rio
,
Dueling Pianos For Hire
,
Gibsons Oakbrook, Illinois
,
Howl at the Moon
,
Music For Wedding Receptions
,
Riverside Theater
,
Wedding Entertainment
,
Wedding Songs
Categorized in
Chicago Dueling Pianos
,
Dueling Pianos
,
Dueling Pianos Corporate Events
,
Florida Dueling Pianos
,
Illinois Dueling Pianos
,
Indiana Dueling Pianos
,
Indianapolis Dueling Pianos
,
Kansas City Dueling Pianos
,
Midwest Dueling Pianos
,
San Antonio Dueling Pianos
,
Texas Dueling Pianos
,
Vero Beach Dueling Pianos
,
Wedding Dueling Pianos