Fredericksburg, TX Dueling Pianos: Western Edge Kitchen & Cocktails
When: December 31th, 2020 at 7 PM
Tickets: $20
Venue: Western Edge Kitchen & Cocktails
Address: 228 West Main Street Fredericksburg, TX
Event: NYE 2021
Who: Howl2GO, brought to you by Howl at the Moon
What are you doing for NYE in Texas? Come check out Howl2GO at the Western Edge Kitchen & Cocktails in Fredericksburg, Texas. Western Edge Kitchen & Cocktails' menu will be available and tickets will also be limited. Howl2GO goes on stage at 7 PM, and will be playing your favorite songs all night long. You can purchase your tickets online by clicking here. Buy yours today.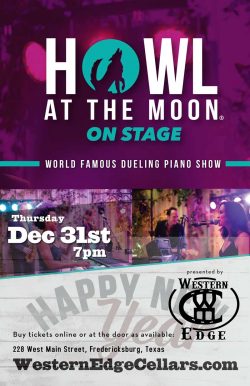 Fredericksburg, TX Dueling Pianos, Cover Band, Party Band and Live Music Band
Howl2GO can play at fundraisers, weddings, holiday parties, corporate events, private parties and more.