Top 10 Songs About Texas
Love Texas? Home to amazing cities such as Dallas, San Antonio, Austin, Fort Worth, Galveston and more, there is something for everybody in Texas. Check out these top 10 songs about Texas:
-Gene Autry "Deep in the Heart of Texas"
-Pat Green "Songs About Texas"
-Waylon Jennings "Luckenbach, Texas (Back to the Basics of Love)"
-Bertie Higgins "Key Largo"
-George Strait "All My Ex's Live in Texas"
-Ernest Tubb "Waltz Across Texas"
-Alabama "If You're Gonna Play in Texas (You Gotta Have a Fiddle in the Band)"
-Lyle Lovett "That's Right (You're Not From Texas)"
-Tanya Tucker "Texas (When I Die)"
-ZZ Top "La Grange"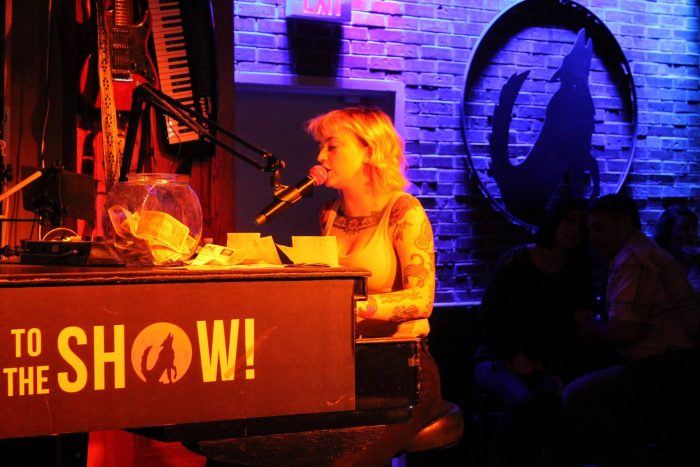 Dueling Pianos
Howl2GO provides the most exciting dueling piano and live music show for your next wedding reception, corporate event, fundraiser, private party, holiday parties and much more. Contact us to book today!
Texas Dueling Pianos
Fair Oaks Ranch, TX Dueling Pianos
San Antonio, TX Dueling Pianos
Houston, TX Dueling Pianos
Laredo, TX Dueling Pianos
Dallas, TX Dueling Pianos
Austin, TX Dueling Pianos
Fort Worth, TX Dueling Pianos
Fredericksburg, TX Dueling Pianos
El Paso, TX Dueling Pianos
Arlington, TX Dueling Pianos
Corpus Christi, TX Dueling Pianos
Richmond, TX Dueling Pianos
Cypress, TX Dueling Pianos
Edna, TX Dueling Pianos
Pipe Creek, TX Dueling Pianos
Plano, TX Dueling Pianos
Lubbock, TX Dueling Pianos
Garland, TX Dueling Pianos
Irving, TX Dueling Pianos
Amarillo, TX Dueling Pianos
Grand Prairie, TX Dueling Pianos
Brownsville, TX Dueling Pianos
McKinney, TX Dueling Pianos
Frisco, TX Dueling Pianos
Pasadena, TX Dueling Pianos
Mesquite, TX Dueling Pianos
Killeen, TX Dueling Pianos
Kerrville, TX Dueling Pianos
McAllen, TX Dueling Pianos
Carrollton, TX Dueling Pianos
Midland, TX Dueling Pianos
Little Elm, TX Dueling Pianos
Waco, TX Dueling Pianos
Denton, TX Dueling Pianos
Abilene, TX Dueling Pianos
Odessa, TX Dueling Pianos
Beaumont, TX Dueling Pianos
Round Rock, TX Dueling Pianos
The Woodlands, TX Dueling Pianos
Richardson, TX Dueling Pianos
Pearland, TX Dueling Pianos
Monahans, TX Dueling Pianos
Atascocita, TX Dueling Pianos
College Station, TX Dueling Pianos
Wichita Falls, TX Dueling Pianos
Lewisville, TX Dueling Pianos
Tyler, TX Dueling Pianos
San Angelo, TX Dueling Pianos
League City, TX Dueling Pianos
Allen, TX Dueling Pianos
Sugar Land, TX Dueling Pianos
Edinburg, TX Dueling Pianos
Mission, TX Dueling Pianos
Longview, TX Dueling Pianos
Bryan, TX Dueling Pianos
Pharr, TX Dueling Pianos
Baytown, TX Dueling Pianos
Missouri City, TX Dueling Pianos
Montgomery, TX Dueling Pianos
Temple, TX Dueling Pianos
Flower Mound, TX Dueling Pianos
New Braunfels, TX Dueling Pianos
North Richland Hills, TX Dueling Pianos
Conroe, TX Dueling Pianos
Victoria, TX Dueling Pianos
Cedar Park, TX Dueling Pianos
Harlingen, TX Dueling Pianos
Mansfield, TX Dueling Pianos
Georgetown, TX Dueling Pianos
San Marcos, TX Dueling Pianos
Rowlett, TX Dueling Pianos
Pflugerville, TX Dueling Pianos
Port Arthur, TX Dueling Pianos
Spring, TX Dueling Pianos
Euless, TX Dueling Pianos
DeSoto, TX Dueling Pianos
Grapevine, TX Dueling Pianos
Galveston, TX Dueling Pianos
Spring Branch, TX Dueling Pianos
New Ulm, TX Dueling Pianos
Big Spring, TX Dueling Pianos
Hankamer, TX Dueling Pianos
Texas Dueling Pianos