Howl2GO at the Nocturne Jazz & Supper Club, Denver
Dueling Pianos Denver Holiday Parties.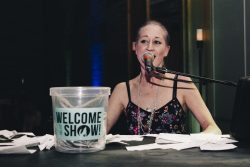 Nocturne is truly a gem in the heart of Denver. Located in the River North Arts Center or "RiNo", Nocturne's aim is to bring modern jazz music to local audiences and all who visit Denver. The venue's founders began converting the formerly worn-down warehouse into an acoustically brilliant music hall in 2014, before officially opening in early 2015. On December 8th, we took Howl2GO's Dueling Piano experience to entertain employees and guests of The Premier Group for their annual holiday party. Our performers, Jon and Music, took to the stage and performed non-stop for 3 hours. This stunning venue provided a perfect, classy backdrop to entertain the group and the dancefloor stayed full throughout. Songs from piano bar standards through to hip-hop kept everyone on their feet and we even had a couple of guest singers come up and perform with us! To bring Howl2GO's Dueling Pianos to your holiday party in Denver, or any other event you may be hosting, fill out the form below to get started.
The Nocturne
What really sets Nocturne apart, however, is just how structured they keep their jazz program. The venue hosts live jazz shows every Tuesday through Saturday, with late night performances on Fridays and Saturdays as well. Most musicians who perform engage in a four to six week residency that explores certain iconic artists' works, subgenres of jazz music, or even original pieces. The residency is meant to allow the performer time to acclimate to the stage and create a connection with the Denver crowd. Nocturne is all about trying to create the most authentic jazz experience possible and have executed on that goal perfectly.
But it's about more than just the music at Nocturne. An exceptional cocktail list features craft creations of the highest calibur, like the Momo Collins, Smooth Talker and whiskey drinks made with the venue's own hand-selected barrel of Knob Creek. Nocturne owner and sommelier Scott Mattson even hand selects ethically and naturally-crafted wines from producers who are "off the beaten path", adding "we invite you to explore them with reckless abandon". All's to say that any drink on the menu is an exceptional pair with the cuisine created by Mattson and head chef Greg Weadick. Each possessing a background in music, the menu is constantly changing based on the influence of the music performed in the club. Which iconic artist is being honored, where the music was created, and what impact it made are all heavy influences on the food that makes it onto your table at Nocturne, from small plates to entrees, charcuterie and more. The trio of Mattson and Weadick is completed by Nicole Mattson, a hospitality guru and manager with over 12 years of experience in ventures ranging from assisting in hotel openings to creating entire service teams from scratch.
Nocturne provides an authentic jazz experience in the heart of Denver like none other. To make reservations for parties of up to 30 guests (140 guests in a buyout), call (303) 295-3333 or head to www.nocturnejazz.com/reservations.
Denver Event Spaces
Nocturne is also a great spot to host an intimate private event and that's where Howl2GO comes in! We'll be bringing our baby grand pianos to an event here on December 8th to entertain the wonderful folks of The Premier Group. We're excited to be performing for this terrific company and please check out their website, as the work they do all year long for various charities is nothing short of amazing.
Live Dueling Pianos Shows
Howl2GO Dueling Pianos makes parties and events of all kinds unforgettable. Always ready to rock with a thrilling dueling pianos show as you've never seen before, getting every guest on their feet and howlin' for more is a guarantee. Our musicians are expertly trained to bring a ton of energy to each performance, playing tons of hit songs and the best requests from your crowd. Your show can even be customized to feature additional musicians on drums, guitar, and more—making your event howl louder than you can imagine! And with Howl2GO's staff working with you months in advance to plan the perfect setlist and schedule for your performance, you can be sure this night will go off without a hitch. Every piece of equipment needed for a jaw-dropping show is included and we always arrive early to set the stage, giving you complete peace of mind throughout your event. The ultimate entertainment at huge parties and events across the nation is Howl2GO Dueling Pianos!
Howl2GO can play at fundraisers, weddings, holiday parties, corporate events, private parties and more.
Call (844) HOWL2GO to book with us today.
Address: 1330 27th St, Denver, CO 80205
Phone: (303) 295-3333
Web: http://nocturnejazz.com/
Tags:
Denver Event Spaces
,
Dueling Pianos For Hire
,
Dueling Pianos Holiday Parties
,
Howl at the Moon
,
Live Entertainment For Events
,
Live Music
,
Wedding Entertainment