Howl2GO Schedule 8-15-2018
Howl2GO Dueling Pianos is back on the road with another set of unbelievable performances around the nation—rocking parties and events of all kinds, big or small. We'll nearly be heading from coast to coast and everywhere in between, including two of our awesome Howl Experience shows for everyone to see! Find out all of the amazing celebrations we'll be performing at during the week of August 13th, 2018.
The week starts early for Howl2GO's performers, kicking things off with an awesome college event in Decatur, Illinois on Tuesday, August 14th for the awesome students of Millikin University. This will be the 3rd time we've performed for this school and we'll be posting some video of previous shows to our pages soon. We should also mention that our fabulous lead performer and wedding specialist, Emily is a music grad of Millikin so this performance is particularly special to us. You can read a recent feature we wrote on Miss Emily recently below. If you're booking Howl2GO's Unforgettable Dueling Pianos for your nuptials, you'll be speaking with her directly to organize all the music for your big day!

Departing from there, we'll be arriving in sunny Vero Beach, Florida to perform back-to-back performances of our unforgettably fun Howl Experience show at the Riverside Theater on Friday, August 17th and Saturday, August 18th! We love playing for new faces and old friends at each of these shows.
Howl2GO's even ending this week with a bang—bringing our dynamic performance to beautiful weddings in Chicago, Illinois at the De La Salle Institute where bride and groom Megan & Sal will be partying the night away with Howl2GO performers Emily, Kaitlyn, Tommy & Jahari.
A wedding in Park City, Utah will see the Sweeney family out in force – this will be our second wedding for their family!
Joe & Maggie's wedding in Grindstone, Pennsylvania will be kicking off at exactly the same time as Chris, Nick & Wes hit the stage in Kansas City, Missouri with friends and family of Brandon & Jane who's first dance is going to be All of Me by John Legend.
And finally, the stunning surroundings of the Montebello Estate in Lemont, Illinois will play host to Howl2GO performers Jordan & Rachel serenading another happy couple down the aisle and into their new lives.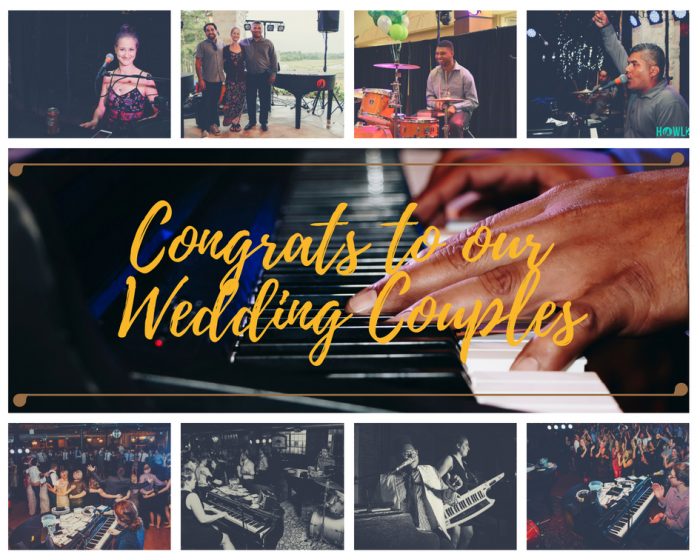 Picking the Perfect First Dance song can be a tricky thing to do – to help you along, we've compiled a list of the most popular choices of this season! Check it out here
Live Dueling Pianos Shows
Howl2GO makes every party and event we play an unforgettable experience. Every show features our expertly-trained musicians bringing a ton of energy to the stage, playing your favorite hit songs and plenty of the best crowd requests. Our legendary dueling pianos show features two baby grand pianos going at it, plus you can bring even more excitement to the stage with additional musicians on guitar, drums, and more! However you're dreaming up this show, Howl2GO plans the details with you early so that everything goes down exactly as you need. We even bring every piece of equipment necessary to every show, arriving early so set up is always a breeze! Howl2GO Dueling Pianos is your go-to for bringing a ton of energy to your next celebration. We love sharing our incredible reviews with you all – that way you can see what our past clients have said about their Howl2GO experience. Our Facebook page also contains reviews and ratings of people we have recently entertained. Check them out!
Whether you want to rock out to some classic Summer Anthems, jam out to AC/DC, or perhaps you're a Beatles obsessive or more of a Lollapalooza-type of music fan – Howl2GO has the music to keep you and your guests rocking out all night!
Howl2GO can play at fundraisers, weddings, holiday parties, corporate events, private parties and more.
Call 1-844-HOWL2GO to start planning your performance today!
Tags: Corporate Entertainment, De La Salle Institute, Live Music, Park City, Riverside Theater, Utah, Wedding DJ, Wedding Entertainment, Wedding Music, Wedding Songs
Categorized in
Chicago Dueling Pianos
,
Dueling Piano FAQs
,
Dueling Pianos
,
Dueling Pianos Corporate Events
,
Dueling Pianos Fundraiser
,
Florida Dueling Pianos
,
Illinois Dueling Pianos
,
Kansas City Dueling Pianos
,
Midwest Dueling Pianos
,
Northeast Dueling Pianos
,
Vero Beach Dueling Pianos
,
Wedding Dueling Pianos