Howl2GO at Warwick Hotel Rittenhouse Square
Philadelphia's Best Dueling Pianos
Live Music For Your Philadelphia Event
Warwick Hotel Rittenhouse Square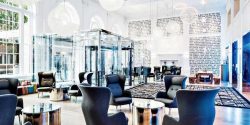 A mix of vintage and modern, Warwick Hotel Rittenhouse Square has a unique flair of its own. When staying there, you will absolutely love the vibrant colors and warmth that is perfectly balanced with its heritage. 
Warwick Rittenhouse is a pet-friendly hotel with lots of amenities to enjoy to ensure that your stay is that much more comfortable. From a business center to a spa and salon, Warwick Rittenhouse is perfect for both leisurely visits and business trips. 
If you are looking to put on a business event or a private event, Warwick Rittenhouse is the perfect venue. For meetings and conferences, you will find plenty of space and services you need to put on a professional event. If you are looking to put on a private event, you'll love the setting, catering and excellent audiovisual equipment.
For a great stay in Philadelphia and/or to put on a spectacular event, Warwick Rittenhouse is the place for you.
Book Dueling Pianos in Philadelphia
Howl2GO can play at fundraisers, weddings, holiday parties, corporate events, private parties and more. Our unbeatable Dueling Piano shows bring a high energy, interactive show that your guests will remember for years to come anywhere in Pennsylvania!
Tags:
Live Music For Hire
,
Philadelphia Dueling Pianos
,
Philadelphia Entertainment
,
Philadelphia Event Planner
,
Philadelphia Events
,
Philadelphia Live Music