Howl2GO at Traditions Club
Hire Dueling Pianos in Bryan, Texas
Live Music For Your Bryan, TX Event
Traditions Club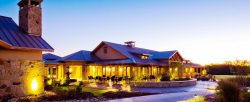 For a round of golf at an exclusive, private golf club, there is no better place than Traditions Club. This social club is located in a gorgeous area surrounded by trees, green hills and even the Turkey Creek. You'll love playing a round of golf surrounded by this beauty.
For members, there is also access to the swim center, wading pool, fitness center, tennis courts and more. Members will also enjoy the delicious dining at the Traditions Clubhouse and the Traditions Pool Grille.
If you are interested in booking a special event, Traditions Club has some beautiful event spaces to meet your needs. The Century Room can host as many as 250 people, while smaller rooms like the 12th Man Bar and Grille are great for 50-75 people. There is also the beautiful 1876 Wine Cellar, but this is only open for members and their guests.
Consider becoming a member and/or host an event at Traditions Club.
Address: 2100 Traditions Blvd, Bryan, TX 77807
Phone: (979) 703-8812
Book Dueling Pianos in Bryan, TX
Howl2GO can play at fundraisers, weddings, holiday parties, corporate events, private parties and more. Our unbeatable Dueling Piano shows bring a high energy, interactive show that your guests will remember for years to come anywhere in Texas!
Tags:
Country Club Events
,
Country Club Live Music
,
Dueling Pianos For Hire
,
Live Music For Hire
,
Texas Dueling Pianos
,
Texas Event Planner
,
Texas Weddings