Howl2GO at Thompson Barn
Live Music For Your Lenexa, KS Event
Hire Dueling Pianos in Lenexa, KS
Thompson Barn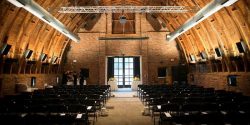 For a memorable event venue with rustic charm, you will definitely want to consider the Thompson Barn. This gorgeous barn has been around for over 80 years, and has stunning architecture that sets it apart from other event spaces. Guests will love the exposed red brick and arched wooden roof that gives the barn its unique character.
The main hall of Thompson Barn is 2,280 square feet, and can host up to 200 guests. There is also a meeting room that can hold as many as 40 guests. There is an onsite concierge as well, to make sure the event goes according to plan with no issues.
Tours of Thompson Barn are available by appointment, so you can visit the venue and get a feel for its unique flair before you book it.
Whether you are hosting a wedding or any other special event, you will definitely want to check out Thompson Barn.
Tags:
Entertainment For Events
,
Kansas Dueling Pianos
,
Kansas Events
,
Kansas Venues
,
Kansas Wedding Venues
,
Live Music For Hire