Howl2GO at The Hangar at Stanley
Book Dueling Pianos in Aurora, CO



Live Music in Aurora, CO
The Hangar at Stanley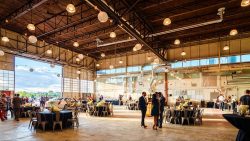 Stanley is a marketplace that is home to a variety of different stores, restaurants and events. Stanley also has some unique architecture, which makes it an interesting place to host a special event. While there are different venue options, The Hangar at Stanley stands out as being an interesting and exciting space.
Just like the name implies The Hangar is an actual airplane hanger that has been converted into an amazing event space. The atmosphere is truly unique, and there is nothing quite like it. Because of the size of The Hangar, it can accommodate as many as 750 standing guests. A rental of the venue includes: guest parking, tables, chairs, a wall-mounted screen and projector and more. There are also some excellent preferred vendors to choose from for your catering needs.
The Hangar at Stanley is a wonderful venue that will make your special event that much more special. 
Book Dueling Pianos in Aurora
Aurora, Colorado Dueling Pianos
Howl2GO can play at fundraisers, weddings, holiday parties, corporate events, private parties and more. Our unbeatable Dueling Piano shows bring a high energy, interactive show that your guests will remember for years to come anywhere in Colorado!
Tags:
Colorado Dueling Pianos
,
Colorado Event Planners
,
Colorado Event Spaces
,
Colorado Events
,
Colorado Live Music
,
Colorado Weddings