Howl2GO at Seersucker Distillery
San Antonio's Best Dueling Pianos



Live Music in San Antonio
Seersucker Distillery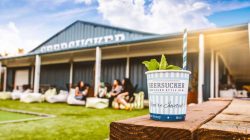 For fans of gin, the Seersucker Distillery is a must-visit! The distillery itself is a lot of fun to check out—from the tastings to the tour. There are also lots of fun events to enjoy while you are visiting. 
The distilling and production process of making gin is extremely interesting and—if you have ever been curious how gin is made—you will definitely want to schedule a tour of the Seersucker Distillery. There is also a tasting room, so you can try some gin right after you have seen how it is made! Additionally, you will want to stop by the gift shop after your tour for some fun mementos. 
Seersucker Distillery also is available for event rental, and is a unique place to host either a private tour or a full event. 
Learn more about the distilling process and try some amazing gin at Seersucker Distillery.
Tags:
Live Music For Hire
,
San Antonio Events
,
Texas Event Planner
,
Texas Events
,
Texas Live Music