Howl2GO at Rockin' B Ranch
Hire Live Music in Pipe Creek, TX
Pipe Creek's Best Dueling Pianos
Rockin' B Ranch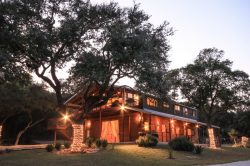 For a relaxing stay and/or event space with true rustic charm, Rockin' B Ranch is the place for you!
Rockin' B Ranch is a 55-acre property in Texas Hill Country, and is perfect for families or couples. The ranch is extremely relaxing, and offers plenty of outdoor fun for people of all ages.
While lodging at Rockin' B Ranch, you will have the option of staying in a house or a cabin. The houses and cabins are different sizes, with different amenities to meet your specific needs. No matter which cabin or house you stay in, you are sure to feel comfortable and at home.
Because of the beautiful atmosphere at Rockin' B Ranch, it is the perfect place to host a special event or wedding. Your guests and you will love the high ceilings, lovely location and country charm.
Whether you are looking to get away for a bit or you are planning a special event, make sure you consider Rockin' B Ranch!
Book Dueling Pianos in Pipe Creek, TX
Howl2GO can play at fundraisers, weddings, holiday parties, corporate events, private parties and more. Our unbeatable Dueling Piano shows bring a high energy, interactive show that your guests will remember for years to come anywhere in Texas!
Tags:
Booking Dueling Pianos
,
Cover Bands Texas
,
Live Music
,
Live Music For Hire
,
Texas Cover Band
,
Texas Dueling Pianos
,
Texas Weddings