Howl2GO at JACK Cleveland Casino
Live Music For Your Cleveland Event



Best Dueling Pianos in Cleveland
JACK Cleveland Casino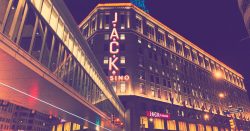 There is a lot of fun to be had at Jack Cleveland Casino! You are sure to love the variety of different games, entertainment and food options that you find, and your friends and you will have an absolute blast testing your luck while playing fantastic games like poker, slots and a variety of different table games. 
Once you are ready to take a break from gaming, enjoy the exciting live entertainment that Jack Cleveland Casino has to offer. Also make sure you pop by one of the great restaurants that can be found at Jack Cleveland Casino for a bite to eat. Some of the restaurants include: Seven Chefs Buffet, STACK'D, Corky Lenny's and more. From Italian to American, there are lots of choices. 
When you are looking for a fun night out at a top casino, look no further than Jack Cleveland Casino. 
Address: 100 Public Square, Cleveland, OH 44113
Phone: (216) 297-4777
Book Dueling Pianos in Cleveland
Howl2GO can play at fundraisers, weddings, holiday parties, corporate events, private parties and more. Our unbeatable Dueling Piano shows bring a high energy, interactive show that your guests will remember for years to come anywhere in Ohio!
Tags:
Booking Live Music
,
Live Music For Hire
,
Ohio Dueling Pianos
,
Ohio Events
,
Ohio Live Music