Howl2GO at Honeywell Center
Howl2GO Live in Wabash, IN
If you live in or near Wabash, we hope you have the opportunity to come see one of our shows at the Honeywell Center! We are regular visitors to this spectacular venue and we are always happy to see a sold-out room. Our Howl2GO Midwest performers bring all the fun of our Howl at the Moon Indianapolis location right to Wabash. Please check our Facebook page for details of our public performances in your area.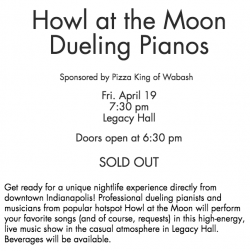 Our Howl at the Moon – Dueling Pianos event sold out so fast, WE'VE ADDED ANOTHER SHOW! Saturday, July 28th at 7:30pm in the Honeywell Center's Legacy Hall.
Get ready for a unique nightlife experience directly from downtown Indianapolis! Professional dueling pianists and musicians from popular hotspot Howl at the Moon will perform your favorite songs (and of course, requests) in this high-energy, live music show in the casual atmosphere. Food and beverages will be available.

Doors open at 6:30pm.
General admission tickets are $20.
Reserved Tables of 8 are $160, or reserve 4 seats together for $80.

Get your tickets here: https://www.honeywellcenter.org/howl-at-the-moon
Honeywell Center adds new shows to 2019 roster
Show list tickets ready for sale at Honeywell
Hire Dueling Pianos in Wabash, IN



Dueling Pianos for your Wabash, IN Event
Honeywell Center
Established in 1941, the Honeywell Center has stood as a home for arts, recreation, culture and socialization. This community center has grown over the years, and now offers more opportunities for the residents of Wabash, Indiana than ever.
The Honeywell center is host to lots of fantastic events throughout the year, including: concerts, festivals, exhibits, plays and more! There is sure to be something on the upcoming events calendar that you'll love!
Also located in the Honeywell Center is Eugenia's Restaurant. This excellent dining experience is open for lunch and dinner, as well as being open for Sunday brunch.
If you are looking to put on your own event, you will definitely want to look into renting out the Honeywell Center. There are plenty of rooms available for rent, as well as Eugenia's Restaurant.
Whether you are looking for something fun to do this weekend or you'd like to put on a special event, the Honeywell Center is the perfect place for you.
Address: 275 W Market St, Wabash, IN 46992
Phone: (260) 563-1102
Book Dueling Pianos in Wabash, IN
Howl2GO can play at fundraisers, weddings, holiday parties, corporate events, private parties and more. Our unbeatable Dueling Piano shows bring a high energy, interactive show that your guests will remember for years to come anywhere in Indiana!
Tags:
Entertainment For Events
,
Historic Venue
,
Indiana Dueling Pianos
,
Indiana Event Destinations
,
Indiana Event Planner
,
Indiana Events
,
Live Music
,
Music For Events