Howl2GO at Devil's Thumb Ranch
Dueling Pianos for Fundraising in Tabernash
Back in April, we were honored to be invited by The Grand Foundation to be headline performers for their annual Grand Gala. Since 1996, this amazing charity has granted over $8.6 million dollars to over 150 worthy causes in Grand County. Their funding has allowed many organizations in the arts, sport, education and environmental areas to begin and to grow further. Howl2GO performers Jon, Pamela, Josh & Justin hit the stage for a full four hours of Dueling Pianos entertainment. Throughout the show, the guests and donors paid cash to the players to hear their song request, all of which at the end of the event was donated directly back to the Grand Foundation.
Our show is perfect for all fundraising events and is one of the few entertainment concepts that exist which allows the performers to solicit tips and donations from your guests to hear their favorite tune. With all Howl2GO Dueling Piano Fundraiser performances, we donate 100% of these back to the cause being supported. Throughout the event, we encouraged guests of all ages to play along by selecting their favorite songs to get the dancefloor going. From the Beatles to piano bar classics by Elton John & Billy Joel, our rocking performers kept the high energy hits coming.
Book Dueling Pianos in Tabernash
Bring Howl2GO to your next event at any venue in Colorado – we bring Howl at the Moon's world famous show to you!



Live Music for your Colorado Event
Howl2GO Dueling Pianos knows how to make an awesome night even more exciting, but the biggest private parties and events need the perfect venue space. Buried deep within the mountains of Tabernash, Colorado is an absolute gem of comfort, relaxation and gorgeous scenery. Devil's Thumb Ranch is the ultimate getaway and event venue in Colorado with origins tracing back to the 1930's. There is plenty of space available for every one of your guests to take in everything the ranch has to offer. Read our reviews to see what our recent clients have said about their Howl2GO Dueling Piano experience!
Devil's Thumb Ranch, Tabernash
Devil's Thumb Ranch has undergone several renovations since becoming a resort in 1946, but the most recent came in 2001 when the property was purchased Bob and Suzanne Franch. The Franch's invested in several sustainable solutions like an array of solar panels, geothermal heat, and a state-of-the-art water filtration system. All this makes Devil's Thumb Ranch not only beautiful but ethical. The ranch features several scenic and creative backdrops and the coziest lodging you'll find in the mountains, making it the ideal location for a wedding or huge celebration for up to 350 guests.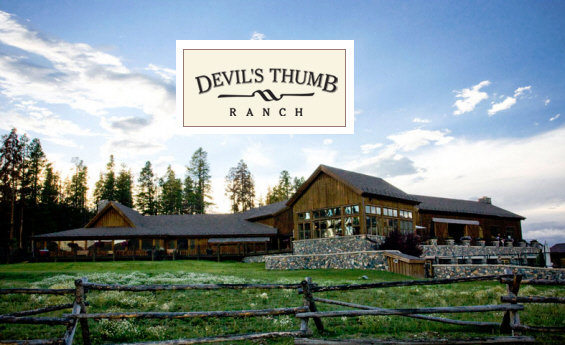 Devil's Thumb Ranch even has an on-site spa so every guest can be pampered throughout their stay and their vast catering menu features craft beer and signature cocktails, plus organic meats, locally-sourced produce (much of which is grown directly on the ranch), and decadent creations inspire a catering menu that is nothing short of astounding. Devil's Thumb Ranch is Colorado's premier wedding and event getaway that is as wholesome as it is luxurious.
Address: 3530 County Rd 83, Tabernash, CO 80478
Phone: (970) 726-5632
Web: https://www.devilsthumbranch.com/
Book Colorado Dueling Pianos in Tabernash
Booking Howl2GO Dueling Pianos' world class show to your Tabernash, CO event couldn't be simpler. Howl2GO can play at fundraisers, weddings, holiday parties, corporate events, private parties and more.
Call (844) HOWL2GO to get started!
Tags:
Colorado Event Spaces
,
Devils Thumb Ranch
,
Dueling Pianos For Hire
,
Dueling Pianos For Weddings
,
Grand Foundation
,
Grand Gala Dueling Pianos
,
Howl at the Moon
,
Live Entertainment For Events
,
Music For Events