Howl2GO at Chateau de Pique
Best Dueling Pianos in Seymour



Hire Dueling Pianos in Seymour
Chateau de Pique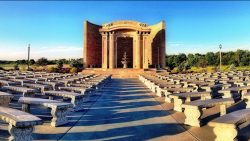 For your next favorite wine and/or an excellent micro-brewed from a local brewery, you'll want to visit Chateau de Pique. This fantastic winery and brewery is everything you'll want and more!
For a tasting of wines that you'll be sure to love, pop by for a wine tasting. Chateau de Pique puts together the perfect wine and cheese pairings that will excite your taste buds, and introduce you to wine and cheese that you may not have ever tried before.
If you have an upcoming event or a wedding, Chateau de Pique is the picturesque location that you've been looking for! The main chapel has high ceilings and a unique flair that you'll never forget. There is also a stunning outdoor banquet tent that can host as many as 450 to 500 guests.
Whether you are looking for a delicious wine or you are putting on a wedding, you'll want to visit Chateau de Pique.
Address: 6361 N County Rd 760 E, Seymour, IN 47274
Book Dueling Pianos in Seymour
Booking Howl2GO Dueling Pianos' world class show to your Seymour, IN event couldn't be simpler. From conventions to corporate events, weddings to fundraisers, our unbeatable Dueling Piano shows bring a high energy, interactive show that your guests will remember for years to come anywhere in Indiana!
Tags:
booking live music
,
indiana dueling pianos
,
indiana event destinations
,
indiana event planner
,
indiana events
,
indiana wedding venues
,
live music
,
live music for hire
,
live wedding band
,
winery events