Howl2GO at Caffe Aldo Lamberti
Live Music in Cherry Hill, NJ
Cherry Hill's Best Dueling Pianos
Caffe Aldo Lamberti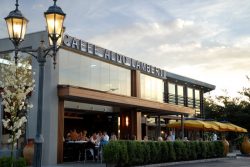 While visiting Cherry Hill, New Jersey, you will definitely want to stop by for a drink and a meal at Caffe Aldo Lamberti. This restaurant has everything that you would expect from an outstanding Italian restaurant, along with great seafood. The excellent menu includes everything from veal to chicken, and each and every one of their dishes are cooked to perfection. 
Caffe Aldo Lamberti is also a great place to host a private event. There are three amazing wine cellars below the main dining room that are perfect for private dinners, and they can accommodate upwards of 36 guests. 
Another thing that sets Caffe Aldo Lamberti apart from other restaurants in the area is their extensive, award-winning wine list. You will be sure to try your next favorite wine at Caffe Aldo Lamberti!
For an absolutely delicious meal and a unique glass of wine, make sure to visit Caffe Aldo Lamberti. 
Address: 2011 Marlton Pike W, Cherry Hill, NJ 08002
Phone: (856) 663-1747
Book Dueling Pianos in Cherry Hill
Howl2GO can play at fundraisers, weddings, holiday parties, corporate events, private parties and more. Our unbeatable Dueling Piano shows bring a high energy, interactive show that your guests will remember for years to come anywhere in New Jersey!