Howl2GO at 1000 Islands Harbor Hotel
Clayton's Best Dueling Pianos
Hire Dueling Pianos in Clayton, NY
1000 Islands Harbor Hotel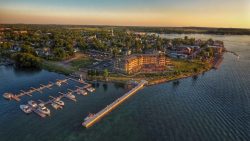 1000 Islands Harbor Hotel is exactly what it sounds like—it is a magnificent hotel on the water. This special atmosphere makes it a truly unique place to stay overnight, relax and even host a special event. 
Like any other high-end hotel, you'll find that 1000 Islands Harbor Hotel has comfortable rooms and all of the amenities that you could possibly need. These amenities include: a business center, an indoor pool, a jacuzzi, a fitness center and so much more. There is even an outdoor patio with a fire pit to enjoy those cooler nights. 
If you are hosting an upcoming event, 1000 Islands Harbor Hotel is the venue that you have been looking for! The hotel has a variety of different event spaces to accommodate different sizes and different types of events. From a wedding to a corporate event, they have you covered.
Book a stay at 1000 Islands Harbor Hotel! 
Book Dueling Pianos in Clayton, NY
Howl2GO can play at fundraisers, weddings, holiday parties, corporate events, private parties and more. Our unbeatable Dueling Piano shows bring a high energy, interactive show that your guests will remember for years to come anywhere in New York!