Get Ready For The Herscher Labor Day Celebration
Daily Journal
Kankakee, IL.
Get ready for the Herscher Labor Day Celebration
Kiera Allen | kallen@daily-journal.com | 815-937-3377
It's nearly time again for the big Labor Day weekend celebration in Herscher.
The 98th Herscher Labor Day Celebration will take place Saturday through Monday in downtown Herscher.
About 100 years old, the annual event stands as one of the longest continuous summertime celebrations in the state.
The festival will feature family-friendly festivities throughout the weekend, including the 37th annual running of the Herscher Hare and Tortoise Race, 5K run and 2 Mile Fun Walk. This tradition was started in 1982 when Herscher celebrated its 100th birthday.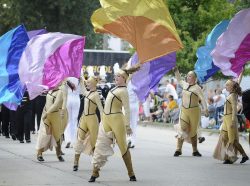 Monday's Grand Parade will feature marching bands, floats, antique vehicles, farm equipment and horses. The grand marshal for the 98th Herscher Homecoming and Labor Day Celebration is Earl Datweiler. Earl moved to Herscher when he was 2 years old and attended Herscher schools for 12 years.
After his son, Todd, was born, Earl started working in the insurance business with Gerald Buckman and Richard Unz for the Banner Agency and then moved the business to Herscher, where he changed the name to Earl A. Datweiler Insurance Agency. Earl completed 52 years in the business last October.
For a number of years, Earl had been involved in car racing, which prompted him to start an additional business, T&E Enterprises of Herscher, Inc. For 37 plus years, the business has been building enclosed trailers for the racing industry, and the haulers are sold all over the U.S., Europe and Australia.
Earl has been a lifelong member of the Herscher Chamber of Commerce and the Lions Club, and he served as a volunteer fireman and was a member of the village board.
The parade also
promises to include a number of local and political candidates as a midterm election is set for November.
Monday's entertainment in Village Park will include the Herscher Area Historical Society presentation at 12:30 p.m., the Herscher High School marching band at 1 p.m., country singer Anita Reno at 1:30 p.m., Firebox Bluegrass Band at 2:30 p.m., the Herscher School District Music Department at 4:30 p.m., the Herscher Chamber of Commerce Drawing at 6 p.m. and Vern and Vern at 6:30 p.m.
A sneak peek of the celebration will take place from 6 p.m. to midnight Friday when the beer stand will open and a BrickStone Brewery craft beer tasting will take place from 7 to 9 p.m.
The stand will open again on Saturday from noon to midnight and will feature Howl at the Moon Dueling Pianos from 7 to 11:30 p.m. The noon to midnight timetable also will hold on Sunday, when Whiskey Romance will perform from 7 to 11:30 PM The stand will be open from noon to 9 p.m. on Monday.
Visit Herscher, IL Chamber of Commerce at their Facebook page
This article originally appeared at:
https://www.daily-journal.com/news/local/get-ready-for-the-herscher-labor-day-celebration/article_e91cbe2e-aa05-11e8-909d-53c8e41c7333.html
===
Herscher, IL Dueling Pianos for Corporate Events
Herscher, IL Dueling Piano Music for Fundraisers
Herscher, IL Dueling Piano Wedding Entertainment
Herscher, IL Live Dueling Pianos Music for Private Parties
Herscher, IL Holiday Parties
Visit our new website: www.howl2go.com for booking information or call us directly on (844) HOWL2GO
We have a dedicated reviews page so you can read testimonials from hundreds of our thrilled clients in Herscher. Our Facebook page features regular updates, and following us on Instagram and Twitter means you'll stay up to date on where we're playing next near Herscher IL.
Tags:
Chamber of Commerce
,
Civic Event
,
Community Festival
,
Firebox Bluegrass Band
,
Herscher
,
Herscher High School
,
Kankakee