Best Songs About Florida
Florida is home to Walt Disney World® Resort, Everglades National Park, Magic Kingdom Park, Universal Orlando Resort, SeaWorld Orlando, Howl at the Moon Orlando and so much more. In honor of this great state, check out these top songs about Florida:
-Eric Clapton "Mainline Florida"
-Chumbawamba "Celebration, Florida"
-Bertie Higgins "Key Largo"
-Muddy Waters "Deep Down in Florida"
-Easton Corbin "This Far From Memphis"
-Bebe Rexha "Meant to Be"
-Jimmy Buffett "Floridays"
-Florida Georgia Line "This Is How We Roll"
-Modest Mouse "Florida"
-Matt Bauer "Florida Rain"
-AC/DC "Thunderstruck"
-Lynyrd Skynyrd "Gimme Three Steps"
-The Blues Brothers "Going Back to Miami"
-Gloria Estefan "Rhythm Is Gonna Get You"
-Ricky Skaggs "Florida Blues"
-Jack Johnson "Only the Ocean"
-Pitbull "305"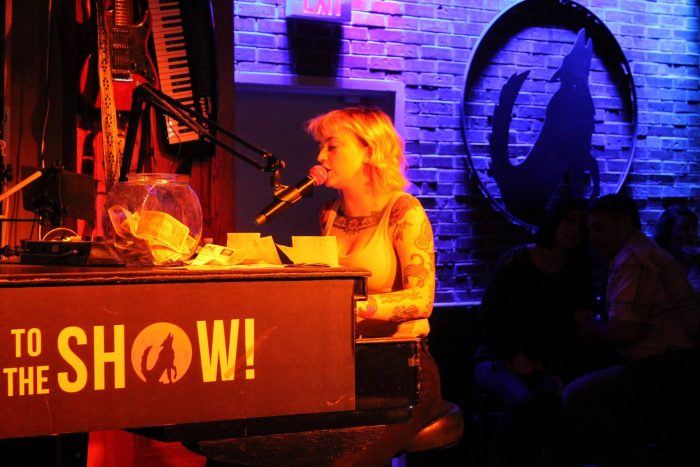 Dueling Pianos
Howl2GO provides the most exciting dueling piano and live music show for your next wedding reception, corporate event, fundraiser, private party, holiday parties and much more. Contact us to book today!
Florida Dueling Pianos
Avon Park, FL Dueling Pianos
Boca Raton, FL Dueling Pianos
Bonita Springs, FL Dueling Pianos
Boynton Beach, FL Dueling Pianos
Bradenton, FL Dueling Pianos
Cape Coral, FL Dueling Pianos
Clearwater, FL Dueling Pianos
Coconut Creek, FL Dueling Pianos
Coral Gables, FL Dueling Pianos
Coral Springs, FL Dueling Pianos
Davie, FL Dueling Pianos
Daytona Beach, FL Dueling Pianos
Deerfield Beach, FL Dueling Pianos
Delray Beach, FL Dueling Pianos
Deltona, FL Dueling Pianos
Destin, FL Dueling Pianos
Doral, FL Dueling Pianos
Fort Lauderdale, FL Dueling Pianos
Fort Myers, FL Dueling Pianos
Gainesville, FL Dueling Pianos
Hollywood, FL Dueling Pianos
Homestead, FL Dueling Pianos
Jacksonville, FL Dueling Pianos
Jupiter, FL Dueling Pianos
Kissimmee, FL Dueling Pianos
Lakeland, FL Dueling Pianos
Lake Buena Vista, FL Dueling Pianos
Largo, FL Dueling Pianos
Lauderhill, FL Dueling Pianos
Margate, FL Dueling Pianos
Melbourne, FL Dueling Pianos
Miami, FL Dueling Pianos
Miami Beach, FL Dueling Pianos
Miami Gardens, FL Dueling Pianos
Miramar, FL Dueling Pianos
Naples, FL Dueling Pianos
North Miami, FL Dueling Pianos
North Port, FL Dueling Pianos
Ocala, FL Dueling Pianos
Okeechobee, FL Dueling Pianos
Orlando, FL Dueling Pianos
Palm Bay, FL Dueling Pianos
Palm Beach, FL Dueling Pianos
Palm Beach Gardens, FL Dueling Pianos
Palm Coast, FL Dueling Pianos
Pembroke Pines, FL Dueling Pianos
Pensacola, FL Dueling Pianos
Pinellas Park, FL Dueling Pianos
Plantation, FL Dueling Pianos
Pompano, FL Dueling Pianos
Ponte Vedra Beach, FL Dueling Pianos
Port Orange, FL Dueling Pianos
Port St. Lucie, FL Dueling Pianos
Sanford, FL Dueling Pianos
Sarasota, FL Dueling Pianos
St. Petersburg, FL Dueling Pianos
Sunrise, FL Dueling Pianos
Tallahassee, FL Dueling Pianos
Tamarac, FL Dueling Pianos
Tampa, FL Dueling Pianos
Vero Beach, FL Dueling Pianos
Wellington, FL Dueling Pianos
West Palm Beach, FL Dueling Pianos
Weston, FL Dueling Pianos
Florida Dueling Pianos
Florida Keys Dueling Pianos